By Shelley Shan / Staff Reporter
Electromagnetic emissions from 4G and 5G base stations pose minimal health risks as they are well below the standards set by the Environmental Protection Administration (EPA) and the International Commission on Non-Ionizing Radiation Protection (ICNIRP), the National Communications Commission (NCC ) said yesterday.
Since 5G licenses were auctioned two years ago, more than 35,000 5G base stations have been built across the country, covering 94 percent of the population, NCC Commissioner Wang Cheng-chia (王正嘉) said at a news conference.
However, some people are still concerned about potential health risks, Wang said.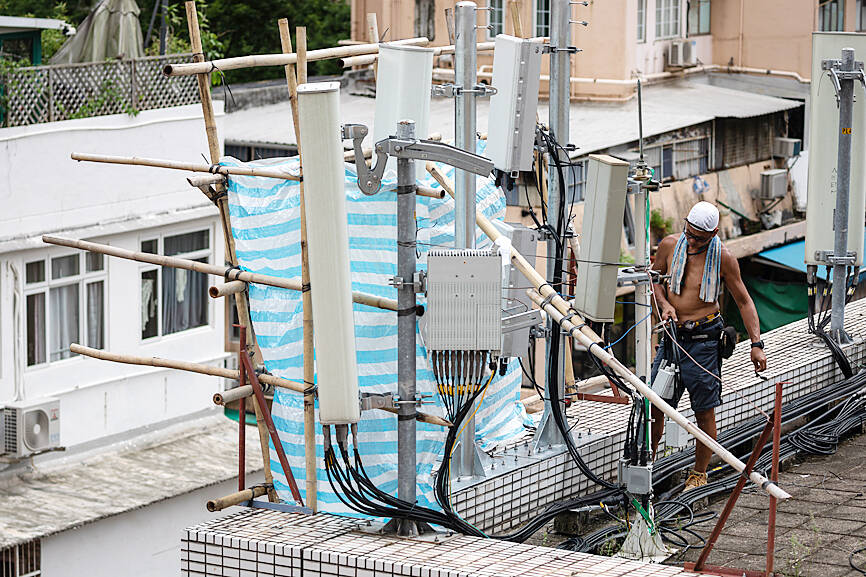 Photo: EPA-EFE
Some base stations were removed following protests from local residents, only to be reinstalled after local residents realized they were unable to receive phone signals, Wang said.
To allay public concerns, the NCC commissioned National Yunlin University of Science and Technology to conduct a study on electromagnetic emissions from 4G and 5G base stations, he said.
The study included 34 sites in northern, southern and eastern Taiwan and offshore islands that had 4G and 5G installations, said Kuo Wen-chung (郭文中), a professor of computer and information technology at the university.
"The sites were chosen because they house equipment and antennas that have been installed by the majority of telecoms and the results we are getting from the sites would best represent all base stations," he said.
Researchers measured non-ionizing electromagnetic radiation (NIEA) levels based on rules established by the EPA, Kuo said.
"We found that the highest proven NIEA value is only about 0.039 percent of the reference values ​​set by ICNIRP and EPA, which are close to those of European countries and the US. The average of the highest values ​​found was 0.0125 percent of the reference values," said Kuo.
The results show that a base station is even safer than a microwave and electric shaver, he said.
The commission said 50,000 microcell stations will be installed on utility poles and traffic lights to further improve 5G coverage.
Although the NCC has been running an awareness campaign for more than 10 years, it has not been particularly successful in allaying public fears. Barring public protests, the commission has only managed to secure 685 government properties suitable for installing base stations from 2014 through last year.
Comments are moderated. Keep comments relevant to the article. Comments with abusive and obscene language, personal attacks of any kind or advertising will be removed and the user will be blocked. The final decision is at the discretion of the Taipei Times.