The once "unlikely" Subaru Forester Turbo now looks set for an Australian launch next year, as the brand prepares an updated Forester and several special editions to celebrate the carmaker's 50th birthday in Australia.
Subaru says its now-aged Forester is next in line for a major update in 2023, with the brand already confirming the Crosstrek (formerly known as the XV) for Australia and revealing the new Impreza hatch.
That means arguably its most important model is in the queue.
Read more about Subaru Forester
"With the Crosstrek coming out next year and the Impreza just announced, we've gone full circle, with the Forester as the next logical (model) for next year," said Subaru Australia managing director, Blair Reid.
"What I can say is that next year is Subaru's 50th anniversary in Australia as an official importer. We have some pretty exciting plans around some special editions that we think will really appeal to the Australian public."
It is understood that these special editions will not include the Forester Turbo, but will instead focus on the US-spec Wilderness model that adds more off-road functionality to the family-focused SUV.
That means off-road focused AWD tuning, improved ground clearance and a new front skid plate, new black wheels and all-terrain tires, and a tougher, more plastic-clad look.
While that model now seems almost certain for Australia next year, the brand has also put its hands in the air for a punchy Forester Turbo.
Once considered "unlikely" for Australia, a turbocharged Forester variant now looks strong for our market, and could even appear next year. Only one question, which one?
The first option is known as the Forester Sport in Japan, and it scores the same turbocharged engine seen in the Levorg. The 1.8-litre boxer-turbo is good for 132kW of power and 300Nm of torque, which easily beats the 2.5-litre naturally aspirated engine in the regular Forester, which has slightly more power (136kW) but a huge torque disadvantage, with 239Nm.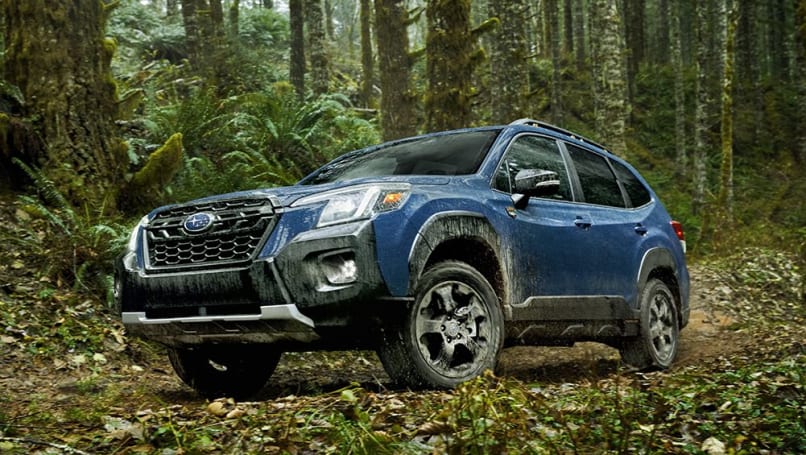 Australia could be getting its own version of the Forester Wilderness.
But another option will be the fitment of the brand's 2.4-litre turbo that will feature in the new Outback. This model features the same 2.4-litre turbo direct-injection engine used in the WRX, tuned to deliver just 183kW and 350Nm.
Subaru has yet to confirm that the Outback's engine will make its way into the Forester – although strong reporting from the US will do so – but Subaru of Australia says it has its hands in the air for a Forester Turbo.
"Still a work in progress. So would we like it? Yes. But it's not in the near future, but we're continuing to work on it," Mr Reed said.
This means that when asked whether or not the model will arrive next year, Mr Reed would only cryptically confirm that it will not be part of Subaru's 50th anniversary special edition rollout next year.
Watch this space.